Why We Chose to Program a Play About Eliza Haycraft…
Madam-The Musical is a totally new play we commissioned to end our 2019 season dedicated to the theme of The American Experience.  Back in March, we performed David Stanley Ford's intense work The Interrogation of Nathan Hale as a way of exploring the idealistic aspirations of those who founded America- a nation that would treat all equally, be free from religious oppression and give every man a say in how the country would be run.  In subsequent productions, we revisited these aspirations through the eyes of some of those Americans- Fanny Kemble and the slaves she sought to free, Molly Heinbach and Feemie Koller who found a court system completely aligned against them as outspoken women in a male-dominated hierarchy and Israel Potter, a simple patriot who sought to serve his country while others grew rich and famous on the sidelines.
And now, in Madam,  we follow the story of a group of women who, for a variety of reasons found themselves without the means to support themselves and turned to the only profession open to women like them-prostitution.  Madam Eliza Haycraft rose from obscurity to become the richest woman in Missouri, much-loved by the general public, and a major philanthropist with a special emphasis on Civil War widows and orphans.  Yet despite the fact that her houses were well-frequented by the rich and powerful men who ran the city, she was shut out of polite society.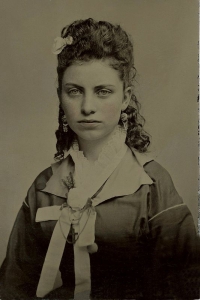 The Real Eliza Haycraft
Very little is known about the real Eliza Haycraft other than what was published in newspaper accounts at the time of her death.  We do know that she remained illiterate, signing documents with an X and yet amassed a substantial real estate portfolio that rivalled any in the city.  It is this fact that playwright Colin Healy settled upon in building his fictionalized story about Madam Haycraft in the final years of her life.  As St. Louis was booming after the Civil War, Haycraft's brothels occupied extremely desirable and valuable locations.  At the same time, St. Louis had passed the Social Evils Ordinance which under the guise of legalizing prostitution actually served to deny the women affected by it of many of the rights they had previously enjoyed.  In fact, proponents of the ordinance opined that "without access to prostitutes, men would seduce or rape innocent women,"  and that "prolonged sexual abstinence for men might lead to physiological disorders and insanity."
Eliza Haycraft was a remarkable woman- a pragmatic feminist who mistrusted men, especially those who used their positions of power to control the rights of women, the poor and the marginalized.  But she knew how to operate in a male-dominated world.  As she neared death, Eliza sought to purchase a burial plot in Bellefontaine Cemetery, then the largest and most prestigious in the city.  The trustees of the cemetery, all clients of hers, attempted to block the purchase until Haycraft countered by suggesting that she would take her case directly to their wives.  They relented.
True American Heroes
America may been founded in the blood of revolutionary patriots, but true equality remained elusive for generations of Americans that followed.  Madam-The Musical introduces other characters who are historically based on some of the remarkable women who defied the norm to claim their place in the country at a time when they had few legitimate rights.  One, an escaped slave, disguised herself as a man to fight in the Union Army.  One is sister to Victoria Woodhull, candidate for president in 1872.
In addition to being a lesson in America history, Healy's musical is bright and lyrical.  The cast is amazing.  And you can be among the first to see what is sure to be a hit.
Madam-The Musical runs from August 15-24.  Buy tickets online or call us at 573-719-3226.
This production is sponsored by Kathleen and Harold Haycraft.
---
Related Post
---