Alice in Wonderland is sure to be a sellout!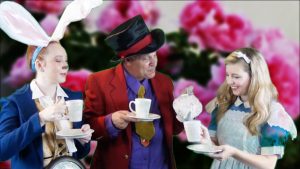 Bring the whole family out to see Alice in Wonderland, Bluff City Theater's musical production of the Lewis Carroll children's classic.  Featuring the BCT Young Company and starring Emy Blake as Alice, Lenny Bart as The Mad Hatter and Meredith Spradlin as The White Rabbit, Alice in Wonderland will be performed quasi-environmentally at the historic Old Federal Building at 600 Broadway in Downtown Hannibal.
Tickets are $25 each for adults, $15 for children 14 and under.  Bring a group of 10 or more and save even more.  See our website or call the box office for details.
Alice in Wonderland plays this Saturday July 25th at 2:00 p.m. followed by performances next week on Friday July 1 at 7:30 p.m. and Saturday July 2 at 2:00 p.m.
Alice in Wonderland is sponsored in part by Quincy Medical Group and Lowes Hannibal and made possible through the generous support of The Riedel Foundation of our YETI programs including the BCT Young Company.