Are You A Fan of American History?
History buffs are going to love The Interrogation of Nathan Hale by Captain John Montresor.  Based on real-life events, David Stanley Ford's thoughtful and intense script captures the final hours of Nathan Hale before he is executed as the first spy in the service of America.  Through the eyes of young Hale and Montresor, a career soldier in the service of King George, we explore the naive optimism of those who sought independence from what was then the richest and most powerful nation on Earth.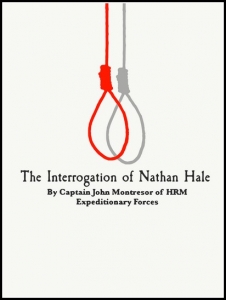 For this performance, out theater is transformed into Montresor's campaign tent on Manhattan Island as we await the inevitable sentence for Hale.  This remarkable story examines the motivations of those early Americans' as a way of understanding both the incredible strengths and terrible flaws of America.
Tickets are on sale now for the following performances:
Thursday March 21 7:30 p.m.
 Friday March 22 7:30 p.m. (Opening Night)
Saturday March 23 2:00 p.m.
Saturday March 23 7:30 p.m.
Thursday March 28 7:30 p.m.
Friday March 29 7:30 p.m.
Saturday March 30 2 p.m.
Saturday March 30 7:30 p.m. (Closing Performance)
Single tickets are $27 Adult/$15 Youth                                                                                              4-Ticket Flex Passes are $95 Adult/$50 Student
Buy online at www.eventshannibal.com or call 573-719-3226
---
Related Post
---