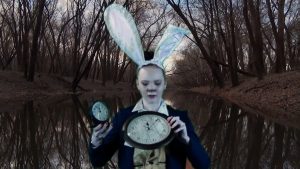 Emy Blake (Alice) will be on the news tonight along with Tweedle Dum and Tweedle Dee (Emily Lennox and Olivia Mears from the BCT Young Company) talking about their performances in our ongoing run of Alice in Wonderland-The Musical.
Alice in Wonderland features music and dance and a lot of laughs and is perfect for children of all ages.  Starring Emily Blake as Alice, Lenny Bart as The Mad Hatter and Meredith Spradlin as The White Rabbit the production runs  just one hour and 15 minutes, without intermission,  so even your youngest children will love this play!  Performances this week are Friday at 7:30 p.m. and Saturday at 2 p.m.  Tickets can be purchased online at www.eventshannibal.com or by calling the box office at 573-719-3226.
The show is performed quasi-environmentally in the Old Federal Building at 600 Broadway and for a few weeks only the halls of the building are haunted by the ghost of Alice, The Mad Hatter and the perennially-late White Rabbit.  The production makes use of the unique architectural features of one of Hannibal's great buildings, now in great need of repair.  Come out and see this magnificent building!
Only 100 tickets are available for each performance, so book early to avoid disappointment!
And watch for us tonight on KHQA Channel 7 tonight at 5!