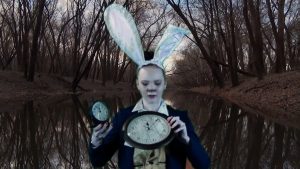 This weekend's tickets are selling fast!  Book yours today!
Bluff City's production of the Prince Street Players version of Alice in Wonderland-The Musical opens this weekend and tickets are already selling fast.
Starring Emy Blake as Alice, Lenny Bart as The Mad Hatter and Meredith Spradlin as the perennially late White Rabbit, Alice in Wonderland brings back the directing duo of Herbie Barnes (director) and Suzanne Reyburn (music director).  If you saw last year's production of Oliver! you'll love Alice in Wonderland.  Performed quasi-environmentally (this year, you get to sit!) in Hannibal's iconic Old Federal Building at 600 Broadway, Alice in Wonderland features the 30 kids in our BCT Young Company singing and dancing their way into your hearts.
Alice in Wonderland is a treat for the whole family.  Tickets are $25 for adults, $15 for children 14 and under or groups of 10 or more can save as much as 30% off regular prices.  We feature a pay-what-you-can preview on Thursday, followed by Opening Night on Friday, June 24th at 7:30 p.m.  Saturday's matinee begins at 2:00 p.m.
Book your tickets online by calling the box office at 573-719-3226 or online at www.eventshannibal.com but hurry-If you wait, you'll be late!
Alice in Wonderland is sponsored in part by Quincy Medical Group, Lowes Hannibal and The Riedel Foundation.