Reprinted from Hannibal Magazine 2016
Familiar Husband and Wife Team Together Again in Bluff City Theater's Season Opener
Theater-goers in the Hannibal/Quincy area are going to find a couple of familiar faces to lead off the  BCT 2016 Season in David Rambo's witty homage to advice columnist Ann Landers.  What audiences may not know is that Lenny Bart and his wife Tricia Bart worked together professionally many times over the years, including nine years at the 12 Miles West Theater Company in Rutherford, New Jersey where Bart served as Artistic Director from 2001 until 2010.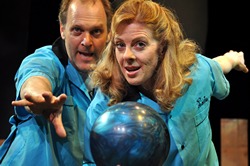 Named because of its geographic location, just twelve miles from Broadway, the theater describes itself as an award-winning professional theater company producing original works, new and lesser-known works and innovative takes on the classics.  During his tenure there, Bart built a reputation for his energetic leadership and enthusiasm as well as for the respect he garnered from his colleagues.
Since coming to the local area, he served as Managing Artistic Director of Quincy Community Theater before assuming the role of Executive Director of Quincy Society of Fine Arts.
Bart will be directing his wife Tricia in Lady With All The Answers which goes into rehearsal on February 1 and opens on February 19th in the theater at 212 Broadway in Hannibal.
Working together again in professional theater is a treat for this couple, according to Bart, Lenny has directed Tricia in 5 productions and has acted with her in 4. "It's wonderful to be able to work this closely with my husband" states Tricia, "since we've worked together so many times, we have a natural short hand."  Lenny laughs about this project because "we both love to read Ann Landers & Dear Abby and then we comment on the answers, so my wife is already a 'Pro' at giving advice!"  Lenny and Tricia have worked with professionals from Broadway, regional theatre and film, including Tony-Winning Arranger Larry Hochman (Spam-a-Lot/Book of Morman), to Emmy-Winners Elaine Bromka and Heather Tom.
The Lady With All The Answers, based on the life and letters of Ann Landers, is set at a point where, after having dispensed wit and wisdom to countless couples around the globe, she must face her own personal crisis.  Audiences will find the play funny and poignant and, if of a certain age, will likely recall many of the letters themselves.
Performances will run Thursday through Saturday from February 19th to 27th at Bluff City Theater in Historic Downtown Hannibal.  Each performance can accommodate only 90 people so reserving tickets early is recommended.  Single tickets are $25 or a 4-ticket flex-pass is just $89 and can be purchased online at www.bluffcitytheater.com or by calling the box office at 573-719-3226.