YETI Online Classes
April 18 – May 23, 2020 (6 week session)
All classes FREE!
Want more information call 573-719-3226 or e-mail yeti@bluffcitytheater.com
Instructor: Gale Rublee
Internet access can be provided as needed and prizes will be given to the best submissions.
Fairy Tale Tableaus
Ages 6-11
Over the six weeks students pick simple stories, fairy tales or nursery rhymes that they act out in six tableaus or "frozen" pictures. Costumes, props, and other family members at home can be utilized to help tell the story. Pictures are submitted to the instructor who will communicate with the students each week along with video chats with other classmates. The picture stories may be shared via Facebook with the family's permission.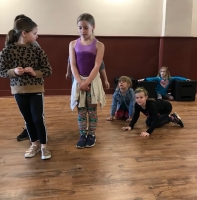 Shelter at Home Video Diary
Ages 10-18
Each week students submit a short video about their experiences and feelings being sequestered at home, not going to school, and with little face to face contact with friends. After each submission the instructor will give the student feedback, suggest ways to improve, and collaborate as needed. There may also be group chats after students have seen each other's work. At the end of the session, a video documentary with at least one video from each student will be put together and posted with permission from families.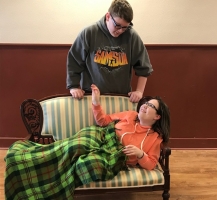 Individual Improv
Ages 10-18
Students will hone their improv skills by practicing pantomime, creating characters, and imagining a variety of different scenarios. They will submit videos of their best work for review and to share with others. Inspired by Mel Paradis' "Individual Improv Activities" of Beat by Beat Press.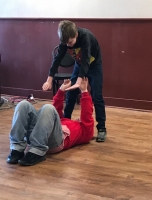 "The Show Must Go Online"
A Virtual Children's Musical from Beat by Beat Press
Ages 8-18
This is a new original musical by Beat by Beat Press made for up to twenty cast members and specifically designed as a virtual production. Students will memorize and practice short individual songs and monologues which they will film at home. Put all together the 30 minute video will tell a story of a group of theater students who figure out a way to save their humorous dental hygiene musical by putting it online. Throughout the rehearsal process, students will have individual remote face time with voice and acting teachers plus input from fellow cast members in group chats.
THE SHOW MUST GO ONLINE A VIRTUAL MUSICAL, Book by Jessica Penzias, Lyrics by Dave Hudson, Music by Denver Casado, THE SHOW MUST GO ONLINE is presented through special arrangement with Beat by Beat Press www.bbbpress.com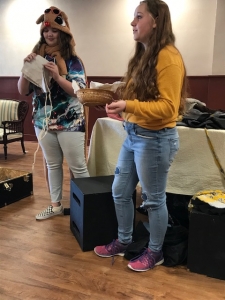 Want more information call 573-719-3226 or e-mail for registration form at yeti@bluffcitytheater.com