Faith…What we hold in the absence of proof.
We are dedicating our 2018 Season to an examination of "Faith".  Each of us holds a system of beliefs that guide our lives-our decisions, our values, our relationships and our self-esteem.  The 2018 season features five plays by five very different authors that highlight how faith has impacted the lives of the characters.  Traditional faith in a higher power, or not, faith in oneself and the future, faith and its impact on families, faith in others and finally, the ultimate faith story updated to modern times.  We've chosen 2 dramas, a farce, a historical biopic and a musical that you're sure to find entertaining and out of the ordinary- hallmarks of the Bluff City Theater style.

Season subscriptions are on sale now.  Just $99 buys all five plays, or act before December 1st, 2017 and save an additional $10.  Just $99 for one ticket to all five productions.  Subscribers enjoy special benefits, like the ability to choose your performance dates in advance, change dates with 48 hours notice and attend opening night receptions with the cast and directors.
Order your subscriptions here and we'll mail them out to you in early 2018.
The first show opens February 15th, so order early to avoid disappointment.
---
The Sunset Limited

by Cormac McCarthy
Directed by Alex Freeman
Described by the author as a novel in dramatic format, this is the story of two characters described only as Black and White.  Black is a former convict who has converted to evangelical Christianity and White, an atheist university professor.  One morning,White decides to end it all by jumping in front of a train, The Sunset Limited.  Black saves his life and, feeling responsible for him, takes White back to his tenement in Harlem where they debate the existence of God.  Best known for his Academy-award-winning story, No Country for Old Men, Cormac McCarthy is one of America's greatest contemporary authors.  The Sunset Limited was made into an HBO movie starring Tommy Lee Jones and Samuel L. Jackson.
The Sunset Limited is generously supported by a donation from Dempsey and Dempsey Law Firm.
 Preview February 15, 2018.
Opening February 16.
Performances Thursday, Friday and Saturday until February 24.
---
Becoming Dr. Ruth

by Mark St. Germain
produced by special arrangement with The Dramatic Publishing Co. of Woodstock, IL
Everyone knows "Dr. Ruth" Westheimer as the famous sex therapist, but few know her full story.  From fleeing the Nazi's as part of the Kindertransport, to joining the Haganah as a sniper then coming to America as a single mother where she became the friend and advisor to countless celebrities, politicians and faith leaders as America's best-known therapist on relationships and sex.  Becoming Dr. Ruth is a remarkable story about overcoming hardship, believing in oneself and staying honest with those we care about.  BCT audiences know Mark St. Germain as the man behind 2016's breakout hit Best of Enemies.
Becoming Dr. Ruth is generously supported by a donation from Independent's Service Company.
Preview March 22, 2018
Opening March 23.
Performances Thursday, Friday and Saturday until March 31.
---
My Name is Asher Lev

By Aaron Posner  Adapted from the novel by Chaim Potok
Directed by Sydnie Grosberg Ronga
Set in the 1950's this is the story of a young Jewish painter torn between his Hassidic upbringing and his need to fulfill his artistic promise.  When his artistic genius threatens to destroy his relationship with his parents and his community, young Asher realizes that he must make a difficult choice between his art and his faith.  This stirring adaptation of a modern classic presents a heartbreaking and triumphant vision of what it means to be and artist.
My Name is Asher Lev is generously supported by a donation from Dr. Michael and Sharon Bukstein.
Preview May 24, 2018.
Opening May 25.
Performances Wednesday, Thursday, Friday and Saturday until June 2.
---
Trees Die Standing Tall
American Premiere!

by Alejandro Casona (Adapted from the Spanish by Lia Beeson)
Directed by Sydnie Grosberg Ronga
A comedy in three acts, this is the story of one woman's faith in her grandson despite all the evidence to the contrary.  Alejandro Casona was a Spanish-Argentinian playwright considered one of the major talents of his era.  This production was originally staged by our sister theater Talk is Free Theatre in Barrie, Canada.  While playing in many ways like a traditional British farce, Trees Die Standing Tall is a clever and funny narrative that belies its structure to explore themes and ideas that will stay with you ling after you leave the theater.
Preview June 28, 2018
Opening June 29.
PerformancesWednesday, Thursday, Friday and Saturday until July 7.
---
The Cotton Patch Gospel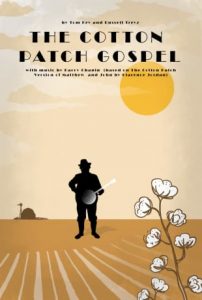 by Tom Key and Russell Treyz with Music by Harry Chapin
Directed by Herbie Barnes
Adapted from The Cotton Patch Version of Matthew and John by Clarence Jordan
This Greatest Story Ever Retold is presented in a setting of rural Georgia with country music songs, the last and perhaps greatest work of Harry Chapin before his untimely death.  As this gospel begins, they sing that "Somethin's a-brewin in Gainesville.  Herod is the mayor of Atlanta.  Inevitably, Christ is lynched by local thugs only to rise again.  This is a spirited and rocking musical production featuring a bluegrass orchestra and supported by the BCT Young Company.  The Cotton Patch Gospel will be performed environmentally in Downtown Hannibal.
The Cotton Patch Gospel is generously supported by a donation from Hannibal Regional Hospital.
Preview July 26, 2018
Opening July 27.
PerformancesWednesday, Thursday, Friday and Saturday until August 4.
---
Reserve all 5 performances now for
just $99

, a savings of 23% from regular ticket prices.

There are two ways to reserve your seats now
Call our Box Office Tuesday – Friday 10 a.m.- 4 p.m.
Your reservation guarantees you tickets for the performance of your choice.  Subscribers are also entitled to free exchange up to 48 hours before your scheduled performance.  This year, we give you several options for picking performance dates.  You can choose all opening nights, all closing nights, all first matinée performances or chose from a complete list of performances now.  Or if you prefer, choose your dates up to 48 hours before the performance of your choice.
Support Bluff City Theater!
As we begin our fourth full season we hope you are enjoying our brand of theater – innovative, professional and intimate.   So while you complete your subscription order, why not make a tax-deductible donation to support our work?  It's easy and convenient-simply check the donation box on the form below.  If you would like to download our mailer and send your payment through the mail click here.
Thank you! We value your support!

Click Here to Subscribe  Please note you will be taken to Events Hannibal to complete your order.
Events Hannibal is owned and operated by Bluff City Theater.