It's the FINAL 4 SHOWS- The Heiress
That's right!  Only 4 more opportunities to see this critically-acclaimed production before its gone Forever!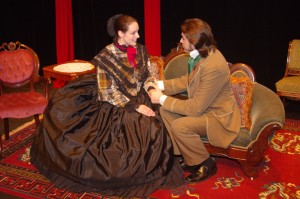 It's been quite a run, but all good things come to an end and The Heiress will be closing on July 30th.  We have just four more opportunities for you to catch this remarkable period drama featuring a stellar cast, stunning costumes and a script that is among the best ever-written.  Book now for one of these remaining performances
Thursday, July 23 at 2 p.m.
Saturday, July 25 at 2 p.m.
Wednesday, July 29 at 7:30 p.m.
Thursday, July 30 at 2 p.m.
Book online, or call the box office at 573-719-3226.  All matinees of the Heiress are Seniors discounts- just $17.50 per ticket for seniors 65 and over.  Call the box office for more details.
---
Related Post
---